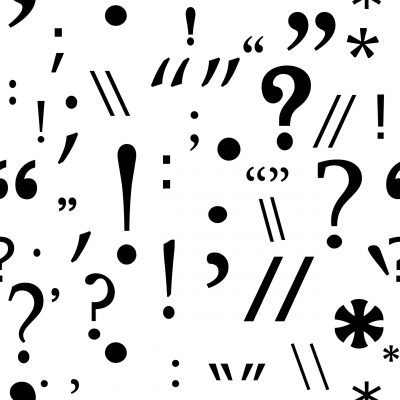 If you're over the age of 45 or so, you might remember that back in the day the fast-food restaurant chain Wendy's had several hilarious commercials containing the catchphrase "parts is parts." Check out my favorite one of the bunch:
Unlike Wendy's chicken sandwiches, however, many sentences are not one unbroken piece, but are made up of two or more parts. So in this installment of our continuing series on using commas correctly, let's look at a variety of situations in which commas help mark off those parts.
With "not" phrases:
When you insert a phrase containing not to clarify a noun, set it off with commas (or just one if the phrase comes at the end of the sentence):
My friend likes mustard, not ketchup, on her burgers.
I prefer grilled chicken sandwiches, not the fried ones.
With "the more…," "the less…" type phrases:
Usually you should place a comma between clauses (another term for phrases) that include constructions such as "the more…", "the less…":
Studies have proven what everyone suspects: the more fast food you eat, the more weight you tend to gain.
If the phrases are short, you may omit the comma (but it's not wrong to still include it):
So the less you eat the better.
With questions inside a sentence:
If you want to include a question within a sentence in the form that it was originally asked—also known as a direct question—put a comma before it:
John asked himself, do I want a vanilla or a chocolate milkshake?
If the question is long or has its own internal punctuation, you may capitalize the first letter of the first word—but this is not mandatory:
The question on my mind was, Can those vegetable-based substitutes really fool people who love burgers made of meat?
But if you're paraphrasing the question, that is, rewording it to make it indirect, then no comma or capitalization is necessary:
The question on my mind was whether those vegetable-based substitutes could really fool people who love burgers made of meat.
With quotations:
I think we all remember this one from school: when you introduce a quote in the middle or at the end a sentence, put a comma before the open quotation marks. This holds true whatever you're quoting, whether it was written or spoken:
The newspaper's food critic commented, "This new locally owned fast-food restaurant beats all the national chains hands down."
Amy asked, "Are those chicken nuggets spicy?" 
But if you introduce the quotation with that, whether, or a similar word, you don't need the comma:
I assured her that "they're not spicy at all."
When the quote begins the sentence, place a comma at the end of the quoted part, just before the close quotation marks—unless the quotation needs a question mark or exclamation point:
"That was a good burger," said Mark.
"I thought it was great!" exclaimed Dave.
With parentheses:
When you have material in parentheses that needs a comma afterwards—for example, it's an item in a series—the comma goes outside the close parenthesis, never inside:
The order for the office included two chicken sandwiches, six burgers (four with cheese), and enough french fries for everyone.
I think that's enough parts and commas for today, but I'll be back soon with more. Most of these rules are pretty clear-cut, but please feel free to leave me a note below if you have any questions. The best way to start getting a handle on all these rules is to take them one at a time: choose just one and concentrate on it for several days in your writing. When you start feeling confident with that rule, take on another.  
And now I've gone and made myself hungry—time to get some lunch!